Telegram is a cloud-based instant messaging platform that allows users to send messages, voice notes, videos, and files of any type up to 2 GB in size. It was launched in 2013 by Pavel Durov and has gained popularity due to its focus on privacy and security.
The app's privacy-focused approach means it provides end-to-end encryption for chats and doesn't meddle with what users share on the platform. However, this policy has led to several challenges with various governments, resulting in Telegram being banned again in Brazil.
After failing to assist in an investigation of neo-Nazi chat groups, Telegram was temporarily banned in Brazil. The order comes after Telegram refused to hand over personal data on users who shared extremist hate messages. An investigation revealed that a teenager responsible for a school shooting in Brazil was part of hate speech groups on Telegram.
This is not the first time the messaging app has been banned in Brazil. In 2022, it was suspended for less than 48 hours after being accused of not cooperating with authorities in preventing the sharing of fake news.
Telegram founder Pavel Durov has stated that complying with the Brazilian court's request for personal data on users is "technologically impossible".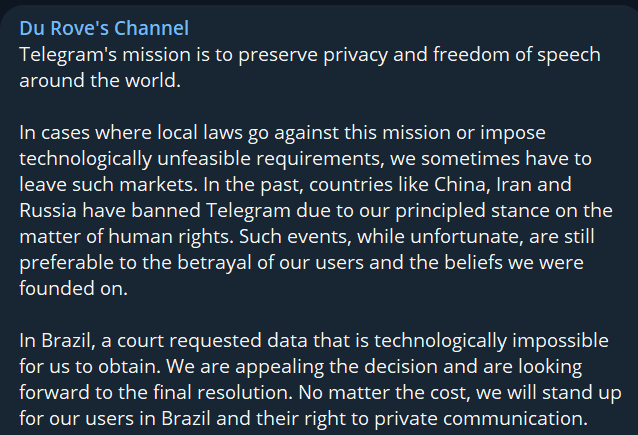 Durov pointed out that Telegram has previously left countries like China, Iran, and Russia due to local laws, and it may have to exit Brazil for the same reason. He emphasized that leaving a country is better than betraying users and the beliefs the app was founded on.
Brazilian federal judge Flavio Lucas lifted the temporary suspension on Saturday because a complete blockage of the app was deemed unreasonable, as it would impact the freedom of communication for those not involved in the probe.
The fine of 1 million reais per day (equivalent to approximately $200,000 or €181,000) for failure to comply with the investigation remains unchanged.