A lot of Nigerians have enthusiastically joined the trend of affiliate marketing, finding it to be a promising way to make money. So many people have already achieved financial success through this method but there is still that growing desire to expand their horizons and explore new affiliate platforms.
Recently, a new affiliate platform called Prompt Earn has gained significant attention. If you're new to the concept of 'affiliate marketing,' you might be wondering what it means. Basically, affiliate marketing involves promoting products or services offered by others and earning a commission for each sale generated through your promotional efforts.
This might sound super simple. You see, it's not just about sharing the product link; you need to convince people to actually buy the product you're talking about. That's when you earn a commission. It's like telling your friends why a certain thing is amazing and why they should get it too.
So, while it might take some effort to persuade people, the good part is that when they do buy, you get rewarded for your marketing skills. Prompt Earn is a platform that facilitates this process, connecting people with products they can promote and providing a way to make money.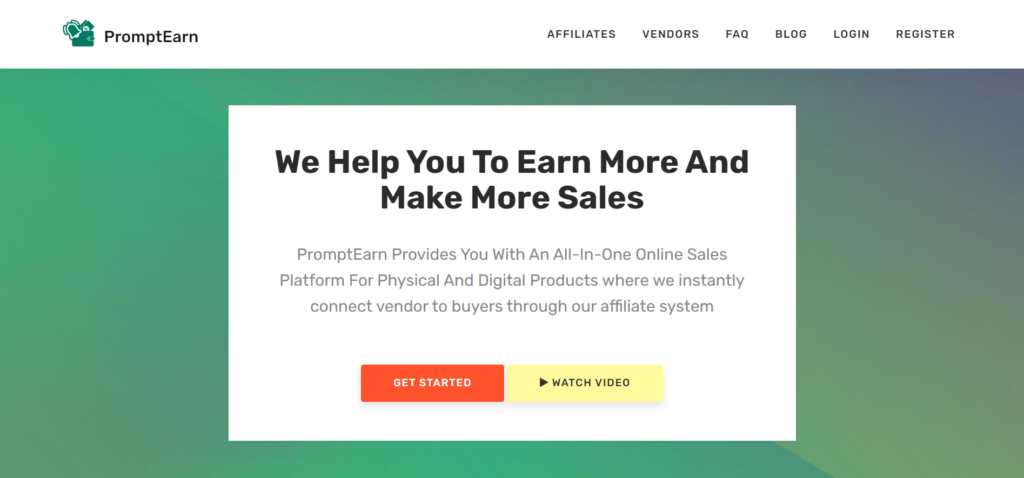 At Prompt Earn, there are two types of people: vendors and affiliates. Vendors are the ones who put their products up for sale on the platform, and then affiliates are the people who help spread the word about these products.
The cool thing is that Prompt Earn isn't just for one type of product – it's for both digital things like e-books or online courses, and also for physical stuff you can touch. So whether you're into selling digital or physical things, Prompt Earn actually gives you a way to connect with others.
Becoming an Affiliate Marketer with Prompt Earn
If you're interested in becoming an affiliate with Prompt Earn, you'll need to sign up with a fee of ₦5,000. This is the current information displayed on Promptearn's website, but it's possible that it could change in the future. It's a good idea to stay updated and verify with the platform if there have been any changes.
Follow these steps to register:
Visit the official website of PromptEarn, which is promptearn.com. You can access the website through your internet browser on your mobile phone.
On the website, you'll find an affiliate registration form. This form gathers necessary information about you to set up your affiliate account. You'll likely need to provide your name, contact details, and other relevant information.
As part of the affiliate program, there's a registration fee of ₦5,000. This fee gives you access to the platform's resources and marketplace. You'll need to make this payment to officially join the affiliate program.
Once your registration is complete and your payment is confirmed, you'll gain access to PromptEarn's marketplace. You can choose any product that resonates with you or that you believe will appeal to your audience.
For each product you choose to promote, PromptEarn will provide you with a unique affiliate link. This link is like your digital ID – it tracks the people who click on it and make purchases based on your recommendation.
Share your affiliate link with your friends, family, followers, or anyone who might be interested in the product. You can promote it through social media, your website, blog, or any other platform where you have an online presence.
When you start making sales through your affiliate link, you'll be earning commissions. To receive these earnings, you'll need to provide your bank details to PromptEarn.
PromptEarn has a specific payment schedule. Commissions earned by affiliates are paid out every Sunday.
Becoming a Vendor with Prompt Earn
To start as a vendor on Prompt Earn, the first step is to sign up as an affiliate. Once you've completed the affiliate registration process, you'll be able to list your products in the platform's marketplace.
You need a few things to list your product on Promptearn:
Product URL: This is the link to your product's sales page.
Product Delivery Process: You should have a system in place for delivering your product to buyers. The Prompt Earn team will review it to make sure it's user-friendly and of good quality.
Commission Offer: Decide on the percentage you're willing to give to affiliates for each sale they bring in.
Customer Support: Provide contact details for customer support. This way, buyers can easily reach out if they need assistance with your product.
Once you've gathered these, you can list your product. Prompt Earn team will then review it. Within 48 hours, your product will be approved and available in the marketplace.
Is Prompt Earn a Scam?
Looking through reviews on social media, most especially Twitter, Instagram, Facebook, and TikTok, it seems that Prompt Earn is getting a thumbs-up. Many affiliates share their stories of success and how much money they're making every week, which is quite motivating for newbies in affiliate marketing.
What's nice is that Prompt Earn makes sure people get their money. They pay both affiliates and vendors through bank deposits, and the money goes to a bank account with their name on it. Affiliates and vendors get paid every Sunday, and they can request their money on Saturdays.
Prompt Earn also offers webinars to teach people about affiliate marketing. This is helpful for those who want to learn and do better.
Even though lots of users seem happy with Prompt Earn, it's still smart to do your research before signing up. Make sure the platform fits what you're looking for before jumping in.