Audiomack is a popular music streaming platform that allows users to discover, listen to, and share music for free. It offers a user-friendly experience, making it easy for music lovers to explore new tracks, albums, and playlists across different genres.
Audiomack is known for its extensive library that includes both mainstream and independent artists, giving listeners the opportunity to discover emerging talent. The platform also allow users create and share their playlists, fostering a vibrant community of music lovers.
If you are an artist, music producer, podcaster or DJ looking to upload your music on Audiomack, then this guide is for you. The platform simplifies sharing your music with millions of fans. You can easily upload your music using the Audiomack Creator App on your phone, directly from your laptop, or on desktop.
Uploading your music to Audiomack is a straightforward process, and here are the steps to follow.
Download Creator App: Start by downloading Audiomack Creator App on Google Play Store or App Store and creating an account.
Access the Upload Feature: Once you have the app and account, locate the upload button on your dashboard within the Creator App.
Choose Upload Type: You'll be prompted to specify the type of upload: Song, Album/EP, or Non-musical. Choose the appropriate option based on your content.
Initiate the Upload: Begin the upload process by selecting the large "+" button. Browse through your files to find the audio you want to upload.
Provide Song Details: Once your song is uploaded, fill in all the necessary information, including the title, features, producers, genre, and any other relevant details.
Set Release Options: With your information in order, decide whether you want to release the song immediately, keep it private, or schedule it for a future release date.
Complete the Upload: Hit the "finish" button to complete the upload process. Your music is now ready to be shared with the Audiomack community!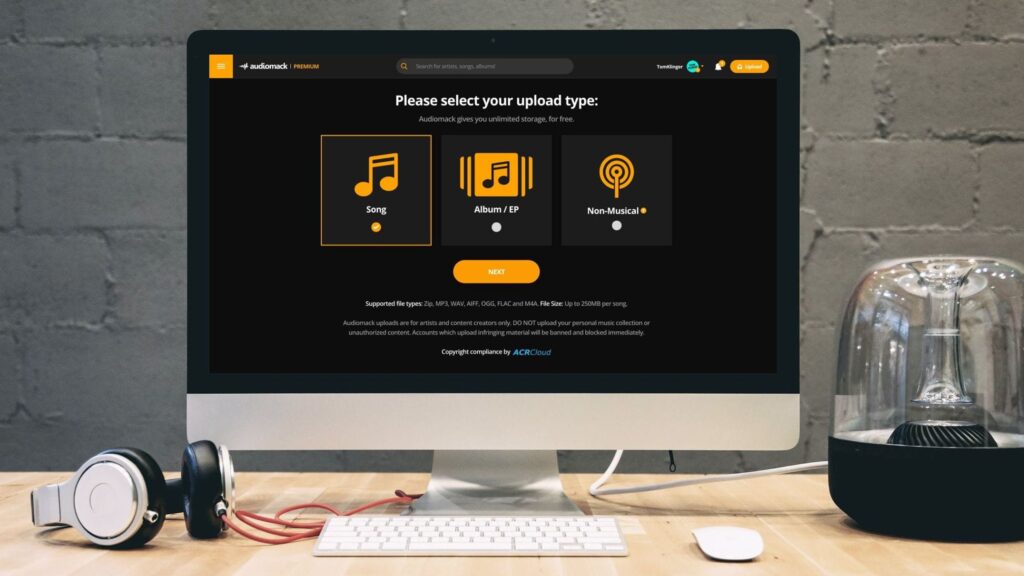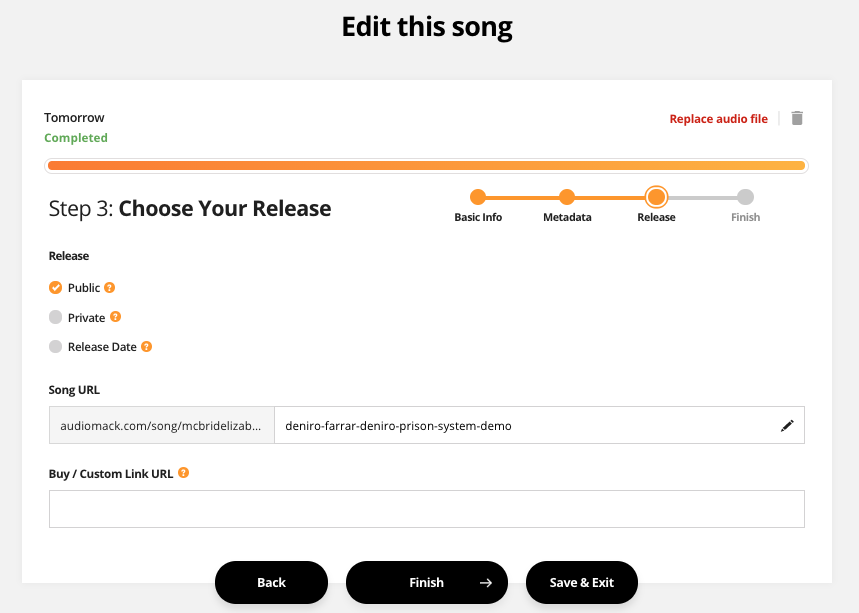 How Do I Find a Song on Audiomack?
Ever wondered how to find your favorite songs on Audiomack? It's as easy as pie!
Login to your Audiomack account. If you don't have one yet, don't worry – creating an account is quick.
After you log in, the home page is like your music adventure hub. On it, Audiomack shows you what's hot, like popular songs, cool playlists, and the newest tunes. Just scroll down to check it out and see if anything you like pops up!
When you have a specific song or artist in mind, the search bar is your go-to tool. Type in the song name, artist, or even keywords related to the genre you're in the mood for.
For a more curated experience, explore Audiomack's genre and mood categories. Simply click on the genre or mood that resonates with you, and let the music flow.
Explore user-generated playlists and charts. Playlists often feature a mix of popular tracks, hidden gems, and rising stars. Audiomack's charts, on the other hand, highlight the hottest and most-played songs on the platform.
Stay in the loop with your favorite artists by following their profiles. When you follow an artist, their latest releases and updates will appear in your feed, making sure you never miss a beat.
Found a song you love? Save it to your library or create a playlist for your favorite tracks. This way, you can curate your own personalized collection and revisit your top picks.
How Do I Get More Plays on Audiomack?
Once you've successfully shared your music on Audiomack, the anticipation for plays naturally follows. Increasing plays on Audiomack involves strategic steps to boost visibility and engagement with your content. From optimizing your profile to leveraging social media promotion, there are various approaches to boost the reach of your music and encourage more plays.
Optimize Your Profile: Make sure your Audiomack profile is complete and eye-catching. Add a compelling bio, a clear profile picture, and links to your social media accounts.
Engage with the Community: Actively participate in the Audiomack community by following other artists, leaving thoughtful comments on tracks you enjoy, and engaging in discussions. Building connections within the platform can help with increased visibility.
Consistent Uploads: Regularly upload new content to keep your audience engaged. Consistency helps maintain interest and encourages users to follow your profile for updates.
Use Social Media: Share your links on your social media platforms. This extends the reach of your music beyond the Audiomack community and attracts listeners who may not be familiar with the platform.
Collaborate with Other Artists: Collaborate with fellow artists to cross-promote each other's work. This allows you to tap into each other's fan bases, broadening your reach and potentially gaining new followers.
Promote Your Tracks: Use Audiomack's promotional features to boost the visibility of your tracks. Investing in promotions can increase your track's chances of being discovered by a larger audience.
All of this adds up to getting more people to listen to your music. So, polish up your profile and spread the word about your music to get more plays and let more folks enjoy what you're creating!