Donald Trump, the former US President, made a comeback on Facebook after more than two years since his ban from the platform. Using his style of writing in all-caps, he posted the message "I'M BACK!" to his 34 million followers.
In addition to his Facebook post, Trump also shared an old video of himself at a rally saying "Sorry to keep you waiting, complicated business". The clip was uploaded to YouTube, which announced on Friday that it was also allowing Trump back onto the platform.
Meta, the company that operates Facebook and Instagram, restored Donald Trump's accounts on both platforms in February. Trump's accounts were initially suspended on 7 January 2021, following the Capitol riots in which his supporters stormed the US Capitol building.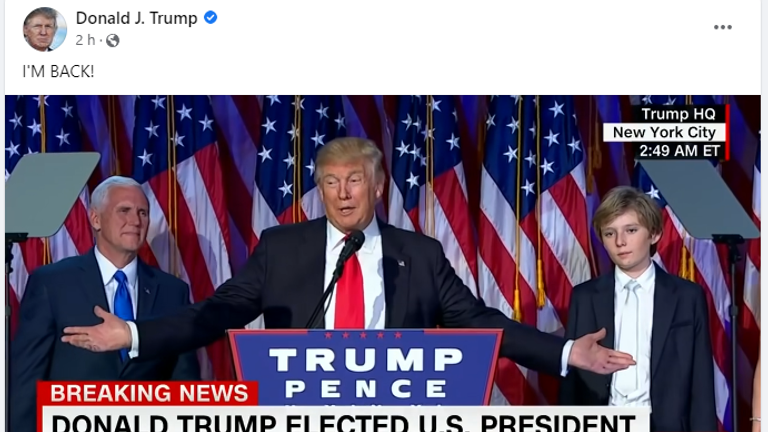 His last post on Facebook, made on 6th January, 2021, urged his followers to remain peaceful. The ban remained in effect for two years, but was lifted in January 2022. Nick Clegg, Meta's VP of Global Affairs, stated that the public has a right to hear from their political leaders, even when they say things that are "good, bad, and ugly".
Following the Capitol riots, Twitter also banned Donald Trump from the platform, but his account was reinstated in November 2022 after Elon Musk's acquisition of the company. Musk criticized the ban, calling it a "mistake" and "morally wrong".
Elon Musk conducted a poll on twitter with the words "Vox Populi, Vox Dei," meaning "the voice of the people is the voice of God," asking users to vote on whether former US President Donald Trump should be allowed to return to Twitter.
The poll garnered over 15 million votes, and the majority voted in favor of reinstating Trump's account. Despite having over 80 million followers, Trump has not made any use of his account since its reinstatement, stating that he sees no reason to return.