Nigerians are constantly on the lookout for opportunities to increase their income, which sometimes makes them susceptible to falling victim to scams. Many platforms offer the promise of quick profits and returns, and today, our focus is on one popular platform that has caught our attention, Uskills.Africa.
Uskills Africa, can be accessible via https://uskills.africa/. It is important to note that the website appears to have an excessive number of pop-up ads, which can be inconvenient for users. According to the information provided on their website, Uskills is an online income program that offers members the opportunity to both learn and earn, all from the convenience of a mobile phone.
Members have the potential to earn a minimum of ₦500 monthly, which can be withdrawn directly into their accounts. The registration fee is ₦4,500, and upon registering, you'll receive a welcome bonus of ₦3,000. Referral bonus is ₦3,600 and you can earn ₦500 daily by completing tasks.
In our review, we will delve into the platform's features and examine other pertinent details to provide a comprehensive assessment.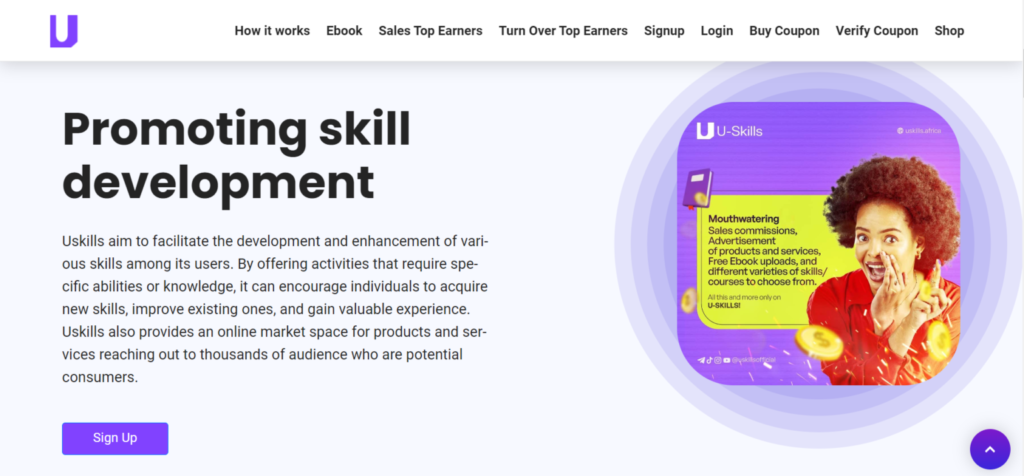 Features of Uskills Africa
Uskills Africa showcases several features on its website. These features are designed to offer users a valuable experience. Here are the major features:
Digital Skills
Digital Skills feature offered by Uskills.Africa is a compelling aspect of their platform, aimed at empowering individuals with knowledge in various fields of digital technology. According to the information provided on their website, you can learn web development from top-notch tutors, learn mobile app design, learn copywriting; which is a highly sought-after skill in the digital marketing and content creation domains.
Other digital skills you can learn include: Graphic design, Instagram and Facebook ads and Mini Importation. Mini importation can be particularly beneficial for individuals interested in starting small-scale businesses and entrepreneurship.
Affiliate Marketing
Affiliate Marketing feature on Uskills is an integral part of their platform, and it operates on the principles of traditional affiliate marketing. This feature allows registered users to actively participate in the growth of the platform by inviting new subscribers to join Uskills Africa and embark on their learning journey to acquire valuable skills. In return for their efforts, affiliate marketers receive bonuses, commissions, and compensations as incentives for bringing in new subscribers.
Multi Level Marketing
The MLM (Multi Level Marketing) structure is a prominent feature on the Uskills platform. This scheme revolves around a system where users who are part of a specific package complete turns by actively referring new subscribers to the platform, utilizing their unique Turnover Referral ID. In return for their efforts, users receive incentives once they reach a particular number of completed turns, and they also earn ranks as recognition for their outstanding performance.
E-Book Publishing
Ebook publishing stands as a feature on the Uskills platform. This feature opens up new horizons for authors and creators of quality ebooks, offering them a chance to reach an extensive audience of Uskills users. Uskills Africa allows users become promoters of specific ebooks and authors benefit by earning a consistent 20% share of the revenue for every new user who purchases their ebook. On the other hand, promoters of the ebooks receive a substantial 60% share of the revenue.
Also Read: Is Prompt Earn Legit?
How to Register on Uskills Africa
To register on Uskills Africa, follow these steps:
Buy a registration code, which is priced at ₦4,500, from any of Uskills' vendors. This code serves as your registration fee.
Once you've gotten the code, click on the provided link provided by the vendor. This link will guide you to the registration process.
During registration, you'll be prompted to fill out a form with your profile information, including your chosen username, email address, phone number, and the registration code you purchased.
After completing the required details, click the "Submit" button.
You will be redirected to your personalized dashboard.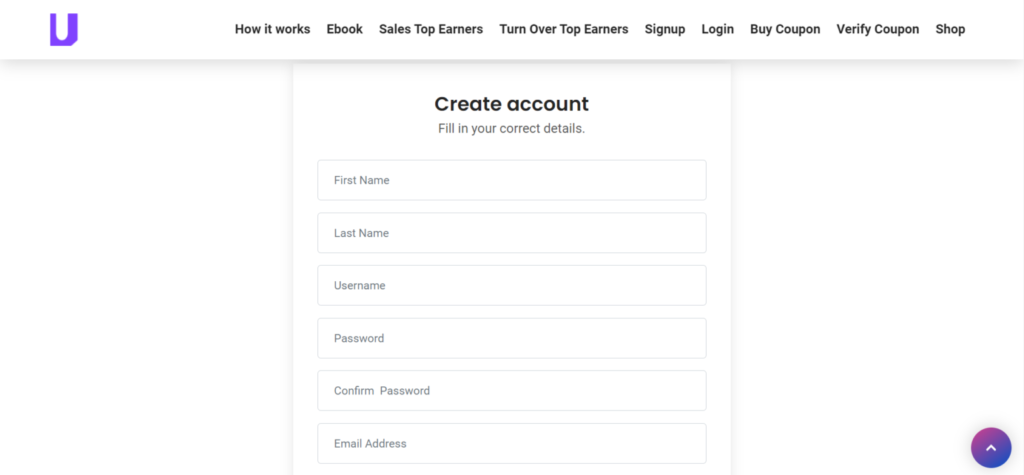 Conclusion
The legitimacy of Uskills.Africa is a topic of concern due to several factors. While they maintain a presence on social media platforms such as Instagram and TikTok with a notable following, the absence of an official Twitter handle raises questions.
Also, the reviews encountered predominantly involve affiliate marketers promoting the platform, making it challenging to determine the authenticity of their claims. Further raising doubts is the absence of information regarding the registration of the business, a standard requirement for legitimate entities. Notably, there is no IOS mobile app available, which could be a limitation for iPhone users looking for a more convenient experience.
In conclusion, the legitimacy of Uskills Africa remains uncertain, and individuals should exercise caution and conduct thorough research before engaging with the platform to ensure their security and financial well-being.