In partnership with iFixit, Nokia has unveiled one of the first affordable Android smartphones that is specifically designed to be easily repaired at home. HMD Global, a Finnish company, has developed the Nokia G22, a typical smartphone featuring a 6.5-inch display and a primary camera with 50 megapixels. What sets this phone apart are its exterior and interior design. The device comes with a back cover made of recyclable plastic that can be effortlessly detached, allowing for the replacement of damaged components.
The Nokia G22 is designed for smartphone owners who prioritize longevity and want to keep their phone for as long as possible. Market research shows that the most common reason people replace their phones is due to damage, particularly to the display or battery. To address this, HMD has made it easy to replace these components.
Replacing the battery on the Nokia G22 is a quick process that can be completed in about five minutes with the help of a SIM ejector tool, guitar pick, and screwdriver. Similarly, replacing the display takes approximately twenty minutes and requires a few additional tools.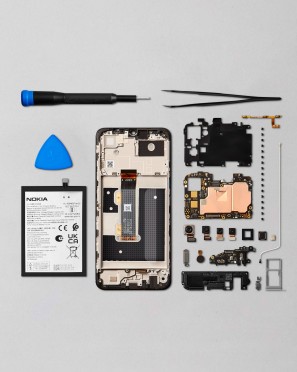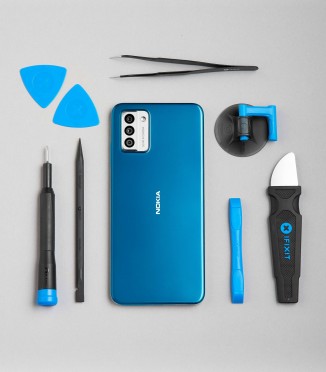 HMD has partnered with iFixit to provide users with the necessary tools, guides, and parts for repairing the display, battery, or charging port on their G22. Additionally, users can also take their device to an authorized service center for repairs. HMD has simplified the repair process for the Nokia G22 by eliminating the need to heat the back cover to remove it and avoiding the use of alcohol to remove the battery. This makes it easier for users to replace components themselves and extends the life of their device.
Starting today, the Nokia G22 is available for purchase in two color options: Blue and Grey, with a starting price of €179.
Smartphone manufacturers are facing growing pressure from regulators and consumers alike to make their devices more sustainable and environmentally friendly. As a result, many companies are now focusing on extending the lifespan of their products, as opposed to simply encouraging users to upgrade to the latest model. This includes making it easier to repair and replace components, as well as implementing features to reduce energy consumption and increase device efficiency.
In addition to the ethical and environmental benefits of this approach, companies are also seeing a business case for making devices that last longer, as consumers increasingly seek out more durable and sustainable products. As such, the trend towards longer-lasting smartphones is expected to continue to grow in the years to come.