Is VALR Available in Nigeria? – Cryptocurrency is rapidly gaining popularity in Nigeria, reaching a point where it has captured the attention of both individuals and businesses alike. This is due to a number of factors, including the country's young and tech-savvy population, its weak currency, and the high cost of traditional financial services.
Cryptocurrency offers a number of advantages over traditional financial systems, including:
Lower fees: Cryptocurrency transactions are typically much cheaper than traditional bank transfers or wire transfers.
Faster transactions: Cryptocurrency transactions can be processed much faster than traditional bank transfers, which can take several days to complete.
Global reach: Cryptocurrency can be sent and received anywhere in the world with an internet connection.
Financial freedom: Cryptocurrencies give users complete control over their own money, without the need for a bank or other financial institution.
As the interest in cryptocurrency continues to surge, more and more people are adopting it as a means of investment, transaction, and financial empowerment. Many cryptocurrency exchanges are available, providing users with the opportunity to engage in various types of crypto transactions.
VALR is a South African cryptocurrency exchange platform. It provides a platform for users to buy, sell, and trade a variety of cryptocurrencies, including popular options like Bitcoin and Ethereum. VALR is known for its user-friendly interface, security features, and accessibility to the South African market.
VALR is accessible to users in Nigeria. The platform accepts customers from various countries, including Nigeria. However, it is important to note that VALR may have specific restrictions in place for certain countries, so users should be aware of any potential limitations when using the platform.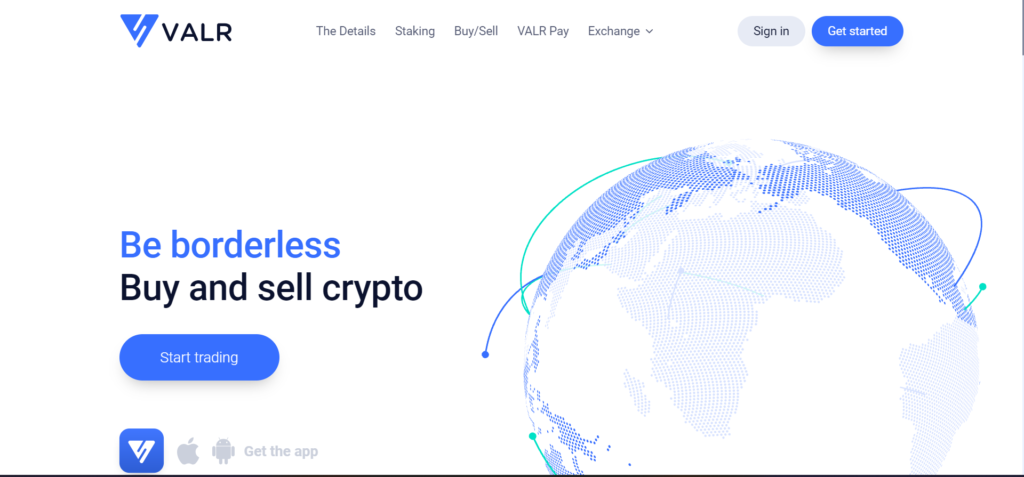 Unfortunately for Nigerians, VALR's services are limited to converting digital assets exclusively into the South African currency (ZAR), which might be a limiting factor for those looking to engage with cryptocurrencies beyond the South African market.
Features of VALR
VALR crypto exchange has several features.
Simple Buy/Sell
VALR offers a "Simple Buy/Sell" feature designed to streamline your cryptocurrency trading experience. With this feature, initiating a trade is as straightforward as it gets. You begin by selecting your preferred cryptocurrency asset, specify the amount you want to spend, and then confirm your trade.
Exchange Buy/Sell
VALR's exchange platform offers an advanced environment tailored for experienced traders. Here, traders have the opportunity to engage in market-making activities and even earn rewards for their trading efforts. The platform is designed to provide the tools needed for traders to execute trades effectively.
Auto-Buy
This tool allows you put your crypto purchases on autopilot, simplifying the process of regularly acquiring digital assets directly from your bank account. It is a stress free way to build your crypto portfolio over time. Whether you're a long-term investor looking to dollar-cost average your purchases or simply want to ensure a consistent investment strategy, VALR's Auto-Buy feature provides a convenient solution.
Staking
A notable feature of VALR is the secure staking of assets. The platform takes on the intricate task of managing on-chain staking, simplifying the process for users and allowing them leverage their cryptocurrency investments. VALR also provides the flexibility to unstake assets whenever users choose, making sure they have full control over their investments while prioritizing security.
How to Sign Up on VALR
Getting started with VALR is a straightforward process.
Visit the VALR signup page using your browser or download the Android or iOS app. Click "Get started."
Enter your signup details manually or choose the option to sign in via Gmail or Apple ID. If you use your email, check your inbox for a confirmation email.
Open the email, click "Verify my email," and then sign in with your email and password.
After successful sign-in, select your country and provide your mobile number.
Once your email and mobile number are verified, the next step is identity verification.
Click "Verify My ID," enter your current address, click "Next," and start the verification process. Complete your profile by providing your information, capturing an image of your ID document, and passing a liveness test with a brief video or selfie.
VALR offers three verification levels:
Semi-verified: To achieve semi-verified status, provide your name, address, and verify your mobile phone and email. Some features may be restricted for semi-verified customers.
Fully-verified: To attain full verification, provide your name, verify your mobile number and email, and submit a government-issued ID (like an identity card, passport, or driver's license) during signup.
Fully-verified PLUS: Once you're fully verified, you can further enhance your security by enabling two-factor authentication (2FA) using an Authenticator app on your account.
Once your verification is complete, you're all set!
Before you dive into using a cryptocurrency exchange, it is important to do your research. Take your time to explore and understand the platform, its features, security measures, and fees. Read reviews, seek recommendations, and verify the exchange's legitimacy.